Toronto Animal Eye Clinic Staff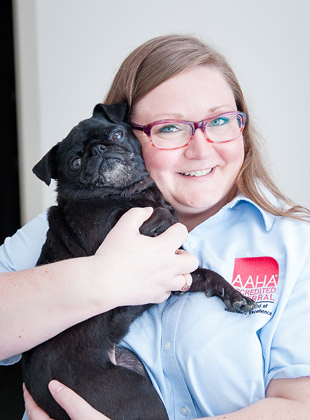 Vicki Goodwin, Hospital Administrator
Hospital Administrator Vicki Goodwin has spent over 20 years in the animal care field. For the past five years she has been an integral part of the staff at Toronto Animal Eye Clinic. Before joining our team, Vicki worked in management and administration at a large emergency specialty practice in the Greater Toronto Area. Her duties at our clinic are performed behind the scenes, where she handles office work and IT issues. However, you can sometimes spot her lending a hand answering phones or assisting a patient anytime the need arises.
Vicki says, "I enjoy working with this fantastic group of people, who together offer some of the best medicine I've had the good fortune to witness." Her favorite part of her job is ensuring the practice runs smoothly. By doing this, she says, it "helps our patients by creating an environment where our veterinarians, technicians and staff are free to excel at what they do!" She enjoys looking for opportunities to promote the practice and organizing new print materials for referring veterinarians and clients.
Vicki earned her Bachelor of Arts Degrees in English and Psychology with honors. At home, she has three pugs, a 13-year-old fawn male pug named Reilly, an 8-year-old female black pug named Leila, and an 11-year-old blind, one-eyed pug named Quincy. She is a volunteer for Pugalug Pug Rescue, and she offers her house as a foster home for pugs in need. Reilly and Vicki previously enjoyed agility training, before Reilly got a bit too old. Vicki and her late pug, Rosie, once volunteered at their local chapter of St. John's Ambulance in the therapy dog program. In her free time, Vicki enjoys spending time with her friends and family, in particular her adorable nephew. She also enjoys hiking, camping, reading a ridiculous number of books, watching documentaries (that no one else can stand) and spending time with her three wonderful pugs.
Joanne Ferraro, Receptionist
Joanne has been in the animal care field for 12 years. As a receptionist at Toronto Animal Eye Clinic, Joanne provides outstanding customer service to her clients and referring veterinarians. Each day at the clinic, Joanne brings a positive and friendly attitude to her clients, patients and coworkers. Her favorite part of her job is interacting with clients and their pets. Joanne holds an Animal Care Diploma from Sheridan College.
Joanne says, "I enjoy working at the Toronto Animal Eye Clinic because I enjoy the interaction with clients and being part of such a wonderful team."
When not at work, Joanne fosters kittens for a local rescue group and enjoys spending time with the greatest loves of her life, her two beautiful daughters.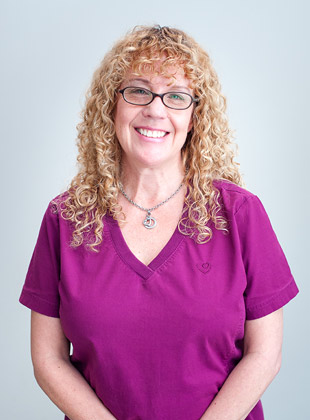 Lesley Knight, Receptionist
Lesley has been working in the animal care field for 15 years. She began her role as receptionist at Toronto Animal Eye Clinic in December 2013. Her responsibilities include making our clients and their beloved pets feel comfortable and reassured when they come through the doors. Her favorite part of working at Toronto Animal Eye Clinic is being a part of a terrific team that makes a difference in pet's lives. Lesley is an important part of that team, and she brings compassion and a special ability to see a silver lining in a difficult situation.
"I like seeing an owner realize that their pet can see after cataract surgery," says Lesley. "It is one of the most beautiful things to witness. The gratitude and relief that our clients show to us makes coming to work every day a joy."
At home, Lesley has a poodle named Charley and three cats named Dexter, Tigger and Buster Kitten. Outside of work, Lesley enjoys gardening and spending time in her home nestled in the woods, where she feeds hundreds of wild birds with her wonderful bird-crazy husband and their menagerie.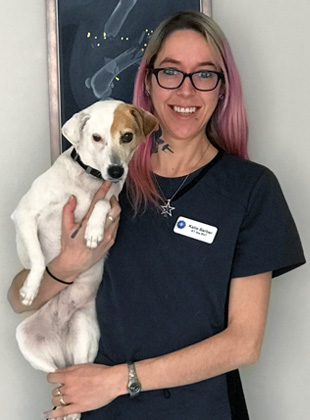 Katie Barber, Registered Veterinary Technician
Katie Barber is a Registered Veterinary Technician that joined the team in 2018. She is here to help take down your pet's history and aide in any tests and surgeries. Katie graduated from Seneca College in 2009 and is registered with the Ontario Association of Veterinary Technology. She also worked at LeGallais Veterinary in Aurora before moving to Toronto.
She loves being able to help pets in any situation, but especially loves having the amazing ability to restore animals' eyesight! Her adaptability and ability to learn new things quickly make her a fantastic asset to the team.
When she isn't helping animals at the hospital, Katie can be found hiking with her puppy Cookie, caring for her three cats and fish, camping and exploring Toronto.