About Toronto Animal Eye Clinic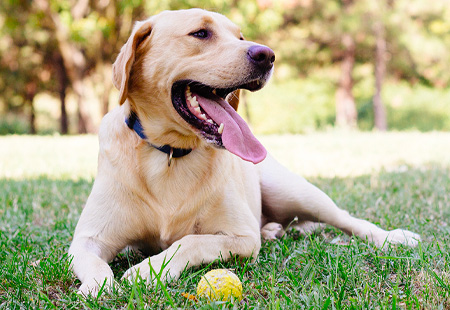 Welcome to Toronto Animal Eye Clinic
Dr. Joe Wolfer opened the Toronto Animal Eye Clinic in 2000 and moved the practice into a state-of-the-art, custom-built hospital on Norseman Street in the spring of 2010. Moving the practice has not only improved accessibility for clients, but allowed us to provide ample free parking while increasing the overall square-footage. The additional space allowed us to widen the hospital's breadth of services, both diagnostically and surgically.
At the Toronto Animal Eye Clinic in Toronto, Dr. Wolfer and his team of knowledgeable and caring staff treat pet eye diseases for a wide array of animals throughout the Greater Toronto Area, including dogs, cats, birds, pocket pets and reptiles.
AAHA Certified
We are accredited by the American Animal Hospital Association (AAHA), the only organization to accredit companion veterinary hospitals. The AAHA states: "Our accredited hospitals hold themselves to a higher standard. Pets are their passion, and keeping them healthy is their #1 priority. They strive to deliver excellent care for pets. Why? Because pets deserve nothing less." From the moment you enter the front door, you will see that this accreditation is more than just words — it's a philosophy we stand behind.
Veterinary Ophthalmologist Dr. Joe Wolfer is Board Certified by the American College of Veterinary Ophthalmologists. Dr. Wolfer employs cutting-edge diagnostic technology such as ultrasound, split-lamp biomicroscopy and electroretinography to make accurate and fast diagnoses. The supporting medical team at Toronto Animal Eye Clinic treats pets in a safe and efficient manner. If surgery is required, we are capable of performing most ophthalmological surgeries including corneal surgery, vitreoretinal surgery, and phacoemulsification with intraocular lens placement for the treatment of cataracts.
The Toronto Animal Eye Clinic annually participates in the ACVO/Merial National Service Dog Eye Exam Event. A philanthropic event held each May with the support of the American College of Veterinary Ophthalmologists, the Toronto Animal Eye Clinic provides free eye exams for any and all service animals. If you are the owner of a service dog, call the hospital at (416) 232-0211 to learn more about having your dog's eyes examined for free.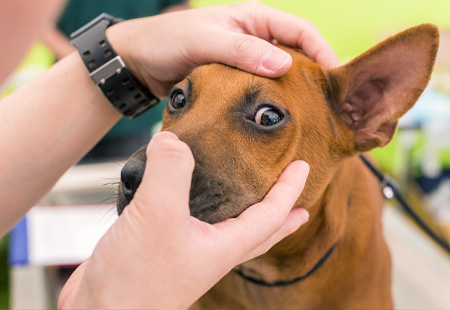 Schedule an Appointment
As a referral based specialty practice, all new patients need to see a veterinarian before contacting us for a consultation. We work very closely with veterinarians and require a referral from them before we can begin the process.
Your veterinarian will book the appointment with us directly if it is a true emergency and is time sensitive. If the veterinarian does not feel it is a time sensitive issue they may tell you to call us to make the appointment. Please have your referring clinic and veterinarian's name ready.
Once the appointment is made we will contact the referring veterinary hospital to request the relevant information regarding your pet. Please bring all the medications your pet is currently taking to the appointment. If you are unable to keep the appointment that was scheduled for your pet please contact us at least 24 hours before the appointment to avoid having a charge applied to your account.
Both veterinarians and pet owners may call us at (416) 232-0211, or email torontoanimaleyeclinic@gmail.com to learn more.