Toronto Veterinary Opthalmologist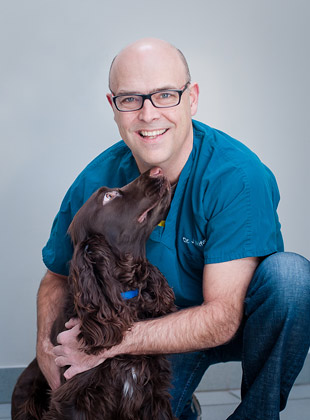 Joe Wolfer, DVM, DACVO
Veterinary Ophthalmologist Dr. Joe Wolfer opened Toronto Animal Eye Clinic in 2000. A specialist in veterinary ophthalmology, Dr. Wolfer is Board Certified by the American College of Veterinary Ophthalmologists and has been practicing veterinary ophthalmology for nearly 25 years. He credits Dr. Keith Barnett, a leader in eye care for guide dogs, as his inspiration for becoming an ophthalmologist. Dr. Wolfer says the most memorable moments in his career are earning his board certification in ophthalmology, becoming a retina specialist and performing his first retina surgery.
Growing up in Delhi, Ontario, Dr. Wolfer's earliest and most memorable experiences were watching his veterinarian treat his horse for colic, learning about dairy cattle and milk production and helping his veterinarian vaccinate his dogs. Before becoming a veterinarian, he worked at Tillsonburg Veterinary Clinic. Dr. Wolfer attended the University of Guelph for his undergraduate studies, and followed directly into veterinary school at the Ontario Veterinary College where he earned his Doctorate of Veterinary Medicine in 1988.
Dr. Wolfer's main professional interest is retinal surgery, and he is one of only a few veterinary ophthalmologists in North America who provide surgical care for patients with retinal detachment, a procedure that has been the focus of his research since 1998. He is a Diplomate of the American College of Veterinary Ophthalmologists (DACVO) and the American Society of Retinal Specialists. He is also an adjunct professor at Ontario Veterinary College. In his free time, Dr. Wolfer enjoys hiking, golf, and horseback riding.